SITE MAP * HOME * ENFIELD & TRAINING RIFLES * TARGET RIFLES * SIGHTS * AIMING * TARGETS * LITERATURE * SUB-CALIBRE * SUB-TARGET * MISCELLANEOUS * BIBLIOGRAPHY * CHRONOLOGY * LINKS
YOU ARE VISITING THE PAGES OF THE U.K. N.R.A. HISTORIC ARMS RESOURCE CENTRE - MINIATURE CALIBRE RIFLES RESEARCH SITE - COPYRIGHT ©1997-










---
An equivalent training rifle to the British "SWIFT" was manufactured at Long Branch in Canada.
This related more closely to the MK.IV Swift rifle and was reputed to have been produced at about a fifth of the cost

The basic principle on which this rifle operated was identical to that of the Swift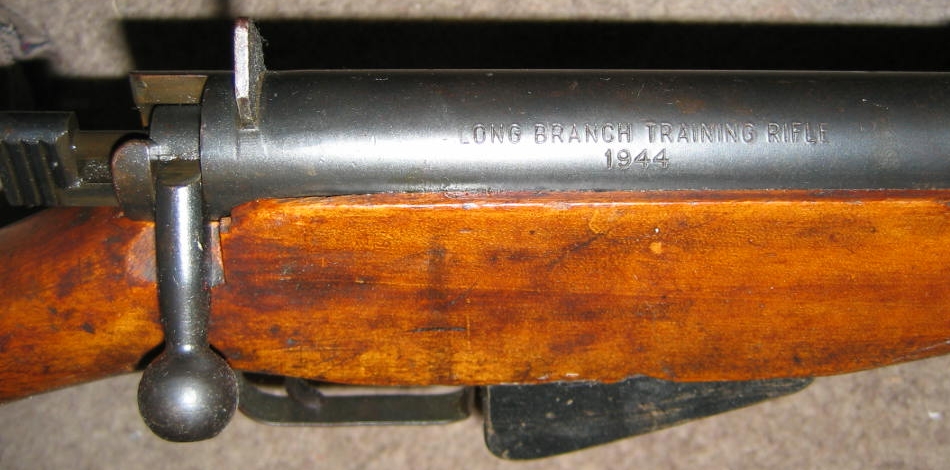 The rifle carried a hook beneath the fore-end. This hook engaged with a steel rod bridle attached to the target frame. The bridle kept the rifle "muzzle" at a constant distance from the target. The sighting arrangement was significantly more realistic than that of the Swift. The Long Branch was also prevented from "firing", unless firmly in the shoulder of the student, by a spring loaded butt-plate safety system.
The "sharp end" was similar to, but far less complicated and fragile than, that of the Swift rifle. There were still two pins, but these were arranged vertically - one to indicate the point of impact, and the other to show any canting of the rifle by the recruit.
Click here to view a representation of the Operator's Manual for the Long Branch Training rifle with its cut-away diagram.
A most worthwhile reference book for those interested in these unusual "weapons" would be:
"The Swift and Long Branch Non-firing Training Rifles of Great Britain and Canada"
an inexpensive, but comprehensive, spirol bound book written by Malcolm MacPherson, who did much groundwork with the assistance of the late Herb Woodend - keeper of the Enfield Pattern Room collection at both Enfield and, latterly, Nottingham - before its removal to storage preparatory to re-housing in new premises being constructed for the Royal Armouries at Leeds. It is hoped this facility will be completed late in 2005 and a significant part of the collection become available to researching visitors by 2006, after the "reopening"
The rifle shown below is to be found in the Pattern Room Collection, now at Leeds Royal Armouries. It is the only example, of a batch of BSA trials rifles, whose whereabouts are known; unless you have seen one elsewhere? Do you think you know what it is?

CLICK IMAGE FOR DETAILS
Click here to access a Chronology of Enfield genre Training Rifles, Adapters & Cartridges