The German MAUSER "Deutsche Sportmodell" TRAINING RIFLE
---
Page under construction - largely images only
The Mauser bolt-action .22 LR rimfire rifle shown as an example on this page was manufactured by the " Geco" company (Gustav Genschow & Co.), one of many companies sub-contracting for the production of these allegedly sporting rifles ( the German Government - post the First World War - were officially restricted to the production of only sporting arms; military weapon manufacture was more or less forbidden by the Allies . Some years on, the sporting rifles came to bear more than a passing resemblance to the old German service rifle). This new miniature calibre Mauser rifle became known as the DSM-34, by virtue of the " Deutsche Sportmodell" designation and the 1934 year of introduction. The DSM became one of the most common of the German "training" rifles and, as was the 1939 following design KKW rifle ( Klein Kaliber - Wehrsportgewehr ), was modelled loosely upon the Gewehr 98 rifle genre. The DSM could not be fixed with a bayonet, but the immediately pre-W.W.II design KKW was so enabled.

more details and images of this .22RF calibre German training rifle
COMING SHORTLY

.............
...........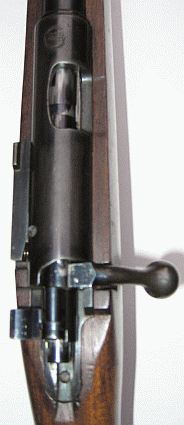 ........................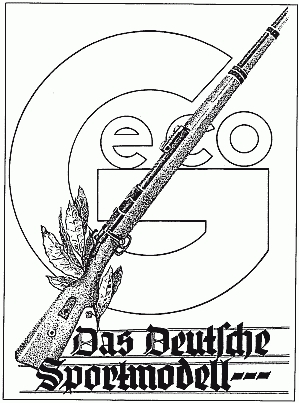 ...................
At the end of the War in 1945, the French Government took over the Mauser factories and these training rifles were still in production for a short while. Before long, all the tooling was removed to France along with all the factory stocked parts as yet unassembled. The rifles were built up in France in the MAS factory, and bore the MAS name thereafter.
For the most comprehensive record of small-bore Mauser training and sporting rifles, you should read the superb Collector Grade Publications book by Jon Speed, unsurprisingly entitled
" MAUSER SMALLBORES - Sporting target and Training Rifles".
For details, see RECOMMENDED READING
See also the the K98 .22RF conversion unit for the German Service rifle.
Click here to access a Chronology of Enfield genre Training Rifles, Adapters & Cartridges
Return to: SITE MAP or MENU PAGE or TOP of PAGE