---
J.C.J. (JOHN) KNOTT
His career in rifle shooting and manufacture.
---
John Colin James Knott - photographed in 1947
Probably best known for his involvement in the production of the Centre-Fire High Power rifle used by the British Team in the 1948 Olympic Games, Knott was a keen sporting shooter, with considerable experience in game shooting and with many rifle types, but his expertise also ran effectively through the world of small-bore target shooting. This latter part of his varied shooting career is what brought him to the attention of our research.
His business, known as "John C.J Knott Ltd.", of Kingston-upon-Thames in Surrey, was in premises not far from where he was born in Epsom in 1914, and the firm assembled rifles in conjunction with his contemporary, S. Broughton, another successful shooter and member of the Ham & Petersham Rifle Club near London.
The resultant company motif "K-B" is illustrated right.
Over the years of his small-bore rifle production, Knott used BSA Martini actions and barrels, as well as Mauser bolt actions. His specialist stocking brought to his doors those with very specific requirements in the specifications of their target rifles. Knott's rifles were not without success in competition, and he built a significant reputation on that success.
He is, though, reputed to have been something of a ladies' man, and not all his contemporaries had the highest opinion of his extra-curricular activities; although it is said that he was of a highly sociable nature, and he has been described in that endearing way as a "likeable rogue".
The above rifle appears to be a specially stocked BSA Model12/15
In 1950, Knott became one of a small team of shooters cum journalists who ventured into the world of publishing. Their diminutive magazine "The Marksman" was a short-lived monthly journal which was initially published in mid-1950 as a "Specimen Issue". It was followed up over a period of only a further four months, until its demise with the final issue No.4 (of Volume 1) in November of that year.
The Editor was M.E. Bradfield, and the Art Editor one E.C. Horner. Many of the articles were either written, or sourced by, an advisory panel consisting of Captain E.W.H. Brookes, A.J. Foster, J.B. Leslie and John Knott himself.
Below is an image of the cover of the September 1950 issue - Vol.1 No.2.
Knott advertised his company with a full-page spread, carrying his prominent characature, in every one of the five numbers before closure. In the represented issue he took the back cover.
The magazine covered a wide variety of issues, including small-bore, full-bore, pistol and clay pigeon shooting. Shooting and firearms politics were discussed, and there were a number of articles on both historic and otherwise interesting or unusual arms. There was even an article on a Browning_Machine_Gun-like Automatic Air-Gun, which was powered by a compressed air cylinder. It was smooth-bored in .177" calibre, and designed to fire steel shot at a rate of fire of up to 350 shots per minute.
We have scanned all five issues of "The Marksman", and intend to re-publish them here on-site in PDF format in the near future. Our thanks go to John Anderson who loaned the papers, for the purpose, from his archived collection; indeed posting them from his new home in North America.
One means of discovering something of an individual's life can be to read an obituary written whilst that life is in recent memory. To that end we copy below Knotts' obituary published in an unknown newspaper 'on the other side of the pond'. He had emigrated to North America later in life, and died there at a date yet to be confirmed. Perhaps then, Knott being none too well-known on that continent, the report could be forgiven for implying, reading between the lines, that at least one thing about his life of which he had spoken, to those with whom he liased in his new country of abode, may have been taken with a pinch of salt.
Interestingly, there was still mention of John C.J. Knott Ltd., in The London Gazette of 26th. September 1958.
---
AN UNDATED OBITUARY
JOHN C. J. KNOTT
John Colin James Knott, aged 50, English-trained gunsmith and manager of the sporting goods annexe to an Auto Supply Company in Tucson, Arizona, is the description given to John Knott, the British marksman who emigrated to the U.S.A. in 1954. Sadly this newspaper report records his death as a the result of a heart attack. The report was headed ' Rosary Set Tonight for Gun Expert '. John Knott came into the small-bore shooting world in 1946 and very quickly went to the front, being selected to shoot for Britain in the 1947 World Championships in Stockholm. That year, also in 1951, 1952 and 1953, he shot for Great Britain in the Dewar Match. In 1947 he shot for Britain in the Mayleigh Trophy Pistol Match. In 1949 and again in 1951, he shot for Britain in the Wakefield Trophy Match.
His peak performance was to win a place on the British Team which travelled to Camp Perry, Ohio, for the Pershing Trophy Match in 1953. It was from contacts that he made there and the brief taste of American life which fired his enthusiasm to return, and he departed from Britain the following year.
News has come through from time to time that John Knott had pursued his chosen trade as a gunsmith from the business he formed at the bottom of Kingston Hill, Surrey. He claimed to be the maker of the Centre-Fire High Power rifle used by the British Team in the 1948 Olympic Games and on that claim he steadily established himself, producing a small-bore rifle to his own design and retailing several American accessories. Whilst in England, it is said that he built a rifle for film magnate John Huston costing £2,000. At the time of his death he was a Pima County Auxiliary Deputy Sheriff, a member of the Tucson Trap and Skeet, the Tucson Rifle and the Pima Pistol Clubs. His survivors include his wife Maria. The funeral rites at Tucson Mortuary Chapel were on 5 October, mass at St. Agustin Cathedral with burial in the Veterans' Plot in South Lawn Memorial Park.
We are indebted to Vice President Colonel G. Gould, D.S.O., for the information which came to him from a nephew in the U.S.A. via a professor of English Literature at the University of Arizona in Tucson.
1948 Olympics Summary
Three-Position 300 Metres Free Rifle
This was the final event of the 1948 shooting competition, contested over two days on 5-6 August. Each shooter took 120 shots, 40 prone, 40 kneeling, and 40 standing, with any rifle of not more than 9 calibre allowed. The shooting was done at 300 metres, at a one metre target with a black bullseye of 60 cm., the entire target divided into 10 scoring rings. Most of the European shooters used a short-action bolt rifle, and 6.5 or 7.5 mm. cartridges. The event was won comfortably by Switzerlandís Emil Grunig, with a score of 1,120 from 1,200 possible. He was consistent throughout, with the highest score prone, the second highest score kneeling, and the third highest score shot standing.
---
Details of the 1948 Olympic competition and final standings can be found here on the SPORTS REFERENCE site
---
A Mr. Saunders, to whom John Anderson spoke in 2001 (the latter researcher has assisted greatly with material for this page), was apprenticed to Knott, or another of his colleagues, in 1950. As far as he remembered Knott "went bust and left the country around 1955" [1954 - Ed]. He said what he knew about Knott before 1950 came from an article in "Shooting Times & British Sportsman" published 3rd April 1948. (We have been unable to locate a copy of that article - can you help?)
As already mentioned, the initials "K-B" came from Knott & Broughton. Broughton was an original partner but the partnership broke up at some point. Mr. Saunders was not sure why.
At the time Mr. Saunders was working with Knott, most of the rifle actions used were bought in from a German firm. He said the German firm's name sounded like "Gushlof" but again he could not spell it. [We have seen Knott rifles also made on pre-war Mauser .22 actions - a great number of these rifles, and maybe actions, were brought into the UK not long after the war and many were sold by Parker Hale. We can recall them having a page in a P-H catalogue of around that time. Parker-Hale also made a special aperture sight and foresight to fit these rifles.]
The stocks were made and finished in-house, mostly made by Mr. Cecil South, who also was an ecclesiastic furniture maker. Mr South had a special finishing formula which he kept secret, making it at home and bringing the materials in to work - the secret was to die with him.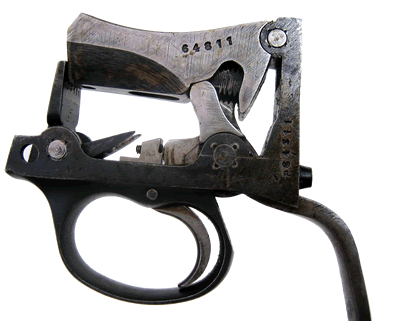 The triggers which, with the stocks, were considered to be the significant advance in the firm's production that generated their market, were also designed and made in house. The parts were sent to a firm in Kingston for cyanide-hardening, and then finished ("stoned square") by Mr. Saunders, who noted that the firm also manufactured their own design of set trigger.
The serial numbers of Knott rifles were understood to represent the date the rifle was finished, but the s/n on the action (left) is probably that of the original BSA Model 12/15. Knott's trigger modification is evident though, with a grub-screw for adjustment. This is a variation on the theme, a patent trigger pull-off, originally marketed by A.G. and A.J. Parker and Parker-Hale
We will be adding more detail, and images, of Knott's small-bore rifles in the near future, but here are some images of a sightless Mauser-actioned rifle.

This rifle and action would bear comparison with the "Deutsche Sportmodell" training rifle.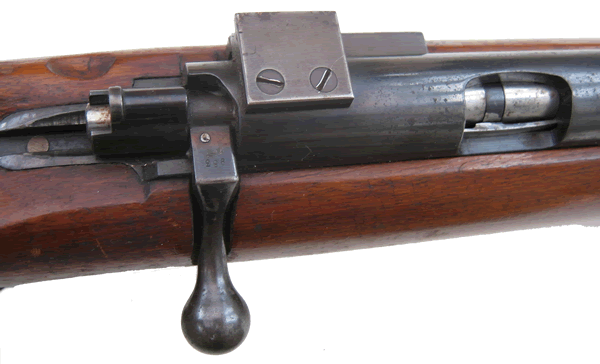 . . . . . . and below, a cartoon printed in the Autumn 1952 Edition of "The Rifleman" (which emerged early in the Twentieth Century as the quarterly journal of the Society of Miniature Rifle Clubs, and remains to this day - post November 1947 - the mouthpiece of the National Small-bore Rifle Association). The cartoon depicts well-known persons seen at the Bisley Small-bore Meeting of that year. Col. Gould D.S.O., mentioned in Knott's obituary, is present (top right), as is Knott himself, prominent again (centre) and described as being amongst the "Big Guns". Another remarkable personage, that of John Hall, is shown (top left). Hall worked for Eley in their .22 rimfire cartridge manufacture, both testing ammunition in the works and very successfully out on the range. He appeared in the illustrious company of the highly successful Arthur Traes, Longhurst and A.G. Banks on a pamphlet published by the S.M.R.C. "A Few Hints on Rifle Shooting" authoured by Capt. T.S. Smith. He later competed in the 1964 Tokyo Olympics with the then new prototype of the B.S.A. Martini International - which became the Mark III.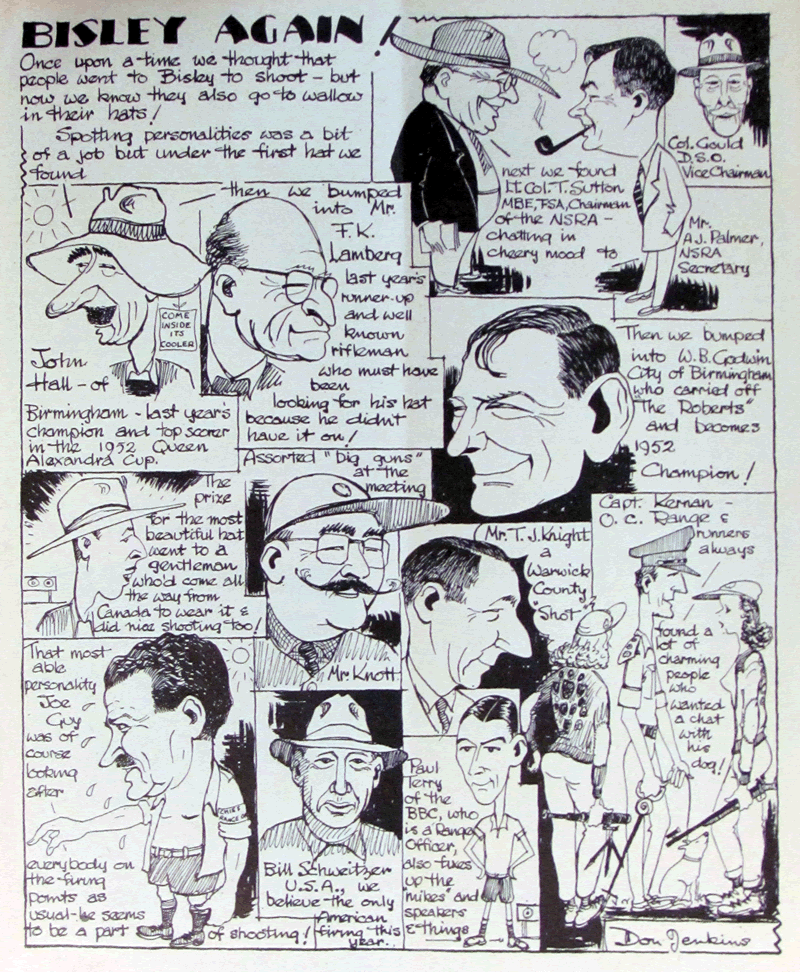 John Knott's expertise in full-bore rifle gunsmithing, as well as small-bore, is to be found within an article in "The Marksman". It is about one of his game-shooting clients and her Mannlicher-actioned .303"CF hunting rifle. Self-publicity? Perhaps.
Knott's lady customer, Mrs. A.B. Culf of Sale, Cheshire, was evidently a versatile shooter; also using a Winchester Model 52D .22RF target rifle to some effect during Bisley Week.
---
Return to: SITE MAP or MENU PAGE or TOP of PAGE