---
Click here to see
BSA and other Target Rifles
---

For detail of Herman Weihrauch and his company based South of Erfurt in Germany see the H.W.Z. Model 21 rifle
A left-handed version of this rifle was also available. The butt-stock and fore-end woodwork, on an example of which we have had sight, does not not meet near the rear of the action as on the rifle shown on this page, but the fore-end finishes at the front of the action body, and the butt-stock has radiused extensions either side of the rear of the action body, akin to how the way in which some shotguns are stocked, with the main part of the body's ironwork showing, along the lines of the BSA Martini International. Cladding the entire action body as shown below, results in a rather home-grown appearance that makes the furniture look not properly thought out; however, it does keep a constant cross-sectional profile to the whole, and may conceivably improve feel and hold.
Below, the action shown open.
The HW 52's fore-end has a drilled cavity accessed at the nose, and capped by a threaded and knurled plug. Removal of this cap permits the addition of balancing weights to the front of the rifle.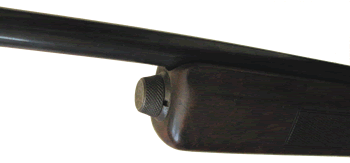 Below, the marking on the RHS of the receiver show the manufacturer " WEIHRAUCH"
with the name of the town Mellrichstadt, in Bavaria,
to which Herman Weihrauch moved his company post World War Two.
It is, above all, at the top-side of the action that the rifle bears
comparison with the Heanel target rifle, although it has to be said that one falling-block of this type must look very much like another.
Above,
the "HW52" model mark is on the LHS of the front section of the action. The loading groove, in the top of the falling block, can be seen lined up with the chamber entrance, The extractor, similar to that of any Martini, can just be made out.
From below, with the under-lever lowered, trigger adjustment may still not be quite as straight-forward as it might at first appear.
These last two images show that, whilst substantial, the rear-sight is rather more graceful and balanced to the rifle than that of the Haenel; neither, like the Heanel and the HW21, does it require an all-to-easily misplaced key to turn the windage and elevation adjustment screws.

The rifles fore-sight has easily exchangeable elements, along the lines of the Parker-Hale FS22 model, but has a split body that clamps to the dovetails formed in the upper segment of the barrel. Removal is simple, eased by a large knurled locking nut. It is worth mentioning the ring element witha n extremely large ring width. Such dimensions are rarely used today, especially with perspex elements, but such rings were certainly to be seen in the early Martini International Target Rifles made by the British Birmingham Small Arms Co.