SITE MAP * HOME * ENFIELD & TRAINING RIFLES * TARGET RIFLES * SIGHTS * AIMING * TARGETS * LITERATURE * SUB-CALIBRE * SUB-TARGET * MISCELLANEOUS * BIBLIOGRAPHY * CHRONOLOGY * LINKS
YOU ARE VISITING THE PAGES OF THE U.K. N.R.A. HISTORIC ARMS RESOURCE CENTRE - MINIATURE CALIBRE RIFLES RESEARCH SITE - COPYRIGHT ©1997-










---
---
The BELGIAN CONVERSION OF THE No.4 RIFLE to .22RF for TRAINING
---
Belgium has used LEE ENFIELD N° 4 MK I rifles rebarrelled in .22 LR for training.
The conversions were undertaken by l'Arsenal de Rocourt ( Rocourt is a city near Liége in Belgium ) during the years 1946/48, for the Belgian army.
It is interesting to note that the .22RF barrel sleeves are much thicker than those originally manufactured by Parker-Hale in the U.K., requiring boring of the parent .303 barrel to a far greater diameter.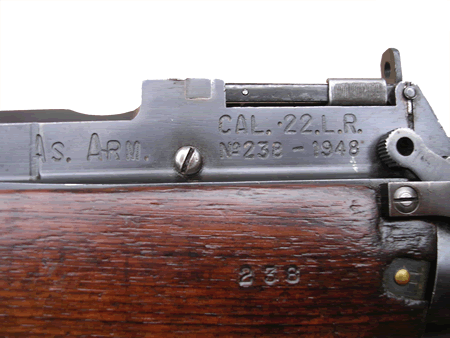 The rear sight of the Belgian conversion has the original range calibration ground off and the face re-stamped with 25, 50 and 100 (yards?) marks. ...... the sight itself is the later Mk.3 lightweight pressed version, perhaps originally fitted to the parent arm.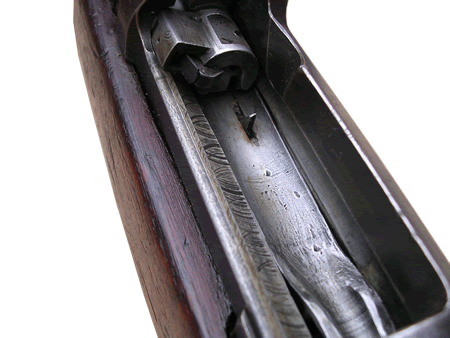 The Belgian Army also used the Lee-Enfield Rifle N°2 in .22, but with a particular rear sight which we have yet to identify.

See also the British and Canadian conversions of the No.4 Rifle:

the Royal Air Force .22RF No.7 and Canadian No.7C, the Royal Navy's Rifle No.9 and what represents a .22RF No.4T sniping rifle trainer

Enfield_Rifle_No.4_Belgian_22RF