---
DATA TABLE - ALL MEASUREMENTS AS VIEWED EXAMPLE

FIREARM

IMPERIAL

(METRIC)

Designation or Type :

Military Style Training Rifle

Manufacturer :

Possibly Birmingham Small Arms Co.

Date :

ca 1948

Serial No :

"BS0198" on butt-socket LHS, bolt-handle and magazine base

Furniture :

Walnut

Action Type :

Turning bolt

Nomenclature or main marks:

"1" on butt-socket RHS

Calibre :

.22RF

-

Weight :

3.70 kgs

Length - Overall :

90.2 cms

Length - Barrel :
Pull :

34 cms

Spare row :

-

Rifling - No. of Grooves :

6

tight bore slugged at 0.221"

Rifling - Twist & Direction :

1 turn in 16 inches - RH

1 : 40.7 cms

Rifling - Groove width :

0.090 inches

0.8 mm

Rifling - Land width :

0.032 inches

2.29 mm

Rifling - Groove depth at muzzle :

0.005 inches

0.13 mm

Sight - Fore :

Standard blade between No.5 side protectors

Sight - Rear :

Parker-Hale No.4 tangent leaf with windage and 6-hole aperture

Sight - Radius :

23 inches

58.4 cms
---
Below are the disassembled major components
Next, left, a view of the rear of the action with bolt open and sight raised.
Right, bolt closed and sight folded down.
The rear-sight leaf has two scribed lines on its right hand side, presumably for 25 and 50 yard range settings.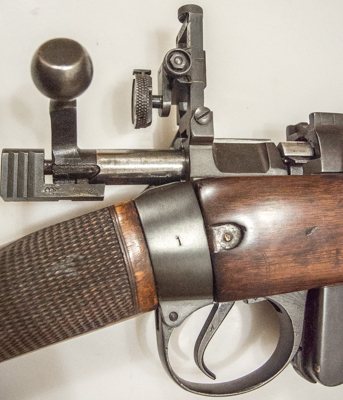 .............................................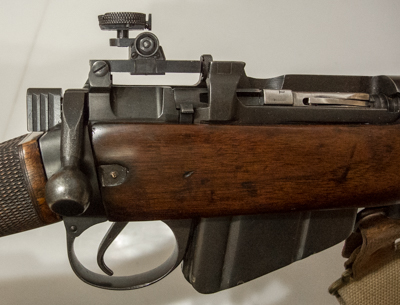 Below, the ejector side plate is evident low down on the flat side of the receiver.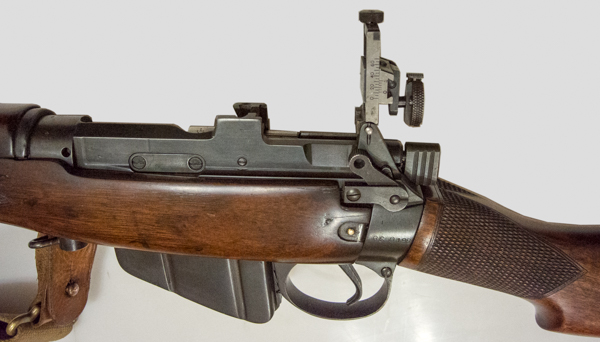 The furniture has a plain wood fore-end nosecap, rather than the steel capping later seen.

A standard No.5 rifle foresight and flash-hider

The No.7 (British R.A.F. type) rifle bolt locking lug is stamped with the numeber "1"
and the military British Nitro Proof (BNP) mark of crossed pennants.
The No.7 magazine insert can be seen fitted into the modified No.4 magazine shell.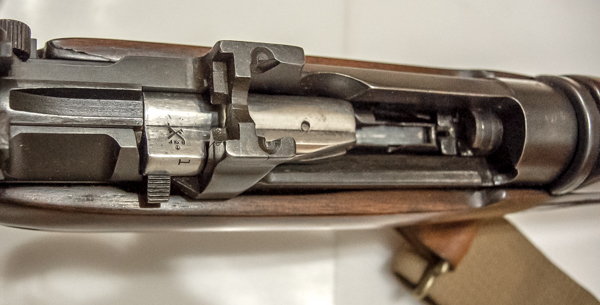 Next, the modified No.4 rifle magazine shell with the platform slotted for the .22 magazine insert,
plus the insert converted from by BSA from their own Sportsman Five rifle by the
simple expedient of inverting the latching arrangement
originally intended for the fitment of the magazine from underneath.
There was also a minor alteration to the profile of the side-plates of the unit.
Further detail can be found included with the page on the BSA Lee-Enfield No.7 rifle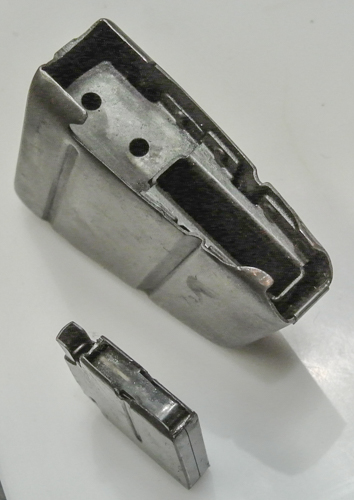 The disassembled bolt, showing the firing-pin and return spring on its location rod,
The secondary extractor is shown in its groove with its small countersunk fixing screw.
The main extractor is out of view on the opposite side of the bolt-head....
... as can be seen in the next image, which also shows the recessed face
to accommodate the .22 long-rifle cartridge rim.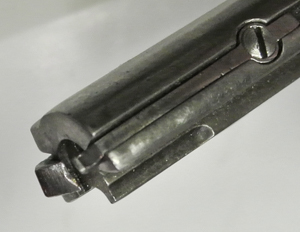 The underside of the finely chequered butt-stock wrist carries the makers code and Broad Arrow stamp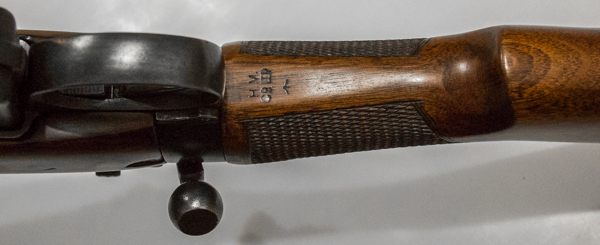 The trigger-guard unit is marked with the "B" of the Birmingham Small Arms Company.
The bedding-screw of the sling-swivel carries both a Broad Arrow and the "D" with a central bar
that is the clever combination of the often seen "EFD" mark of the Royal Small Arms Factory (R.S.A.F.) at Enfield.
The Parker-Hale manufactured PH4 target rear-sight replaced either the standard No.4 or No.5 sight leaves,
adding the benefit of vernier calibrated elevation on the left of the leaf, in addition to the usual 200-1,100 yard settings on the rear face.
The greatest advantage of the PH4 sight, that was introduced at Bisley in 1946, was the windage adjustment with its own vernier scale, along with the ability to add orthoptic aperture eyepieces, either single or multiple, to both suit the shooter and conditions.
More details of this sight are to be found onsite here.
..............................................