Below: a circa 1912 advertisement for the Model No.8
In its original configuration, with a tapered barrel and short, tapered fore-end, the Model No.8 rifle weighed in at 6lbs. 9ozs. The Model No.9 rifle, with a longer fore-end, weighed just 5ozs. more.
As described in the advertisement above, the No.9 Model was as the No.8 but fitted with a long fore-end.
The Model No.9 carries a similar fore-end to the Model Nos.10 and 11 rifles, in that it is a quasi-military fore-end with a single front barrel-band, but without the steel nose-cap.
Below: a 1933 advertisement for the Model No.8
The later Model No.8 rifle had increased in weight considerably, by virtue of the larger fore-end now being fitted as more suitable for target shooting and the heavier - almost parallel sectioned - target barrel.
All Model No.8 rifles were manufactured on the "narrow" one inch wide action body - unlike the Models 12, 13, 12/15 and 15, which were all built on the one-and-a-quarter inch ( 1.25") wide action.
Below is a comparison image of the Model No.12 (top), Model No.13 (centre) and Model No.8 ( bottom) rifles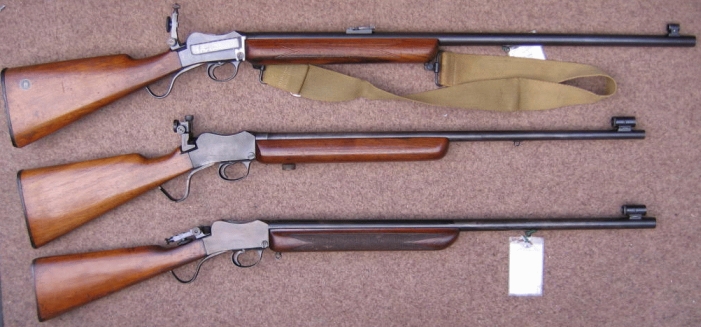 Return to: SITE MAP or MENU PAGE or TOP of PAGE

BSA_Models_No.8_and_No.9_rifles.html" BORDER=0 ALT="Get your counter" WIDTH=15 HEIGHT=18>