SITE MAP * HOME * ENFIELD & TRAINING RIFLES * TARGET RIFLES * SIGHTS * AIMING * TARGETS * LITERATURE * SUB-CALIBRE * SUB-TARGET * MISCELLANEOUS * BIBLIOGRAPHY * CHRONOLOGY * LINKS
YOU ARE VISITING THE PAGES OF THE U.K. N.R.A. HISTORIC ARMS RESOURCE CENTRE - MINIATURE CALIBRE RIFLES RESEARCH SITE - COPYRIGHT ©1997-







---
This tube sleeving system was developed by Alfred G. Parker & Co. Ltd., and marketed under the "Parkerifling" tradename early in the Twentieth Century - certainly prior to 1910. The Company was born more than twenty years earlier, in 1880. The firm initially traded from premises in Icknield Street, Birmingham and was joined by Arthur T.C. Hale, who had become manager by 1910, at around which time they moved to Whittal Street. This address became that of the famous "Bisley Works" subsequently stamped on so many of the company's products.
The product range became most comprehensive and included all mannner of especially built target service rifles, sights and ancillaries, imported and other British manufacturers' rifles, cleaning and maintenance paraphernalia, targetry, ammunition and, of course, Parkerifling.
A.T.C. Hale became a director at some point prior to 1925. A.G. Parker's son Alfred J. Parker was also working in the business by the latter half of the century's first decade. By 1910, young Alfred was designing aperture sights for the firm and performing remarkably at Bisley with a 'Long' Lee-Enfield fitted with one of his own sights. Alfred served in Belgium and France in the First World War and survived, (unlike John Tippins - son of Luke (L.R.) Tippins , a contemporary armourer, and himself a fine shot), to return to the family business.
Prior to 1928, Alfred left to set up his own company; Alfred J. Parker & Co. Ltd. For many years until recently (the business closed late in 2007), the firm was at the "Armoury Works" in Moseley Road on the outskirts of Birmingham city. It was previously at Bath Street Old Schools in Birmingham (the company was still at Bath Street in 1956, but had moved to Moseley Road by the mid Sixties). Here he produced the first Twin Zero rear aperture sight - a folding version.
Around 1930, Arthur Hale's involvement with A.G. Parker had reached a significance which led to the change of company name to Parker-Hale; so it has remained to this day. It seems that there must have been some distancing between A.G. Parker and his son and, although their product ranges were quite similar, many identical items were separately named although probably bought-in from the same source. Alfred offered an equivalent barrel re-lining service for small-bore rifles but, whilst his father's refurbished barrels were stamped on the crown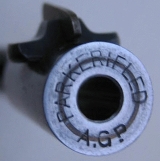 "PARKERIFLED A.G.P.",
Alfred's stampings were simply marked
" RIFLED BY ALFD. J. PARKER".
To the right is an image of the muzzle crown stamping.
The section through the brass olive used at the muzzle can just be defined.
The A.G.P. Parkerifling acquired a superb reputation for accuracy, entirely well founded. The quality of the sleeves was such that the claim of improved grouping over some new rifles was not unwarranted. Even now, rifles refurbished in this way half a century ago will perform to a high standard, such was the quality of steel and workmanship. A tired barrel could be brought back to very useful life with a significant saving over the cost of a total replacement.
Alongside is an image of a sales display
cutaway of a Parkerifled barrel.
The sleeving joint can be clearly seen.
The company advertisements often carried remarkable testimonials to their workmanship and the success of their rifling system. Copies of such advertisements published over the forty years between 1925 and 1965 are shown below. They make fascinating reading.
This image
and the one below it
are taken from
the catalogue of
A.G.Parker
for 1925.
Grading of the
rifled sleeves
has become necessary.
Thirteen years
after the event,
the testimonials
for successes made
with Parkerifled
TARGET RIFLES
are still apparently
quite worthy of mention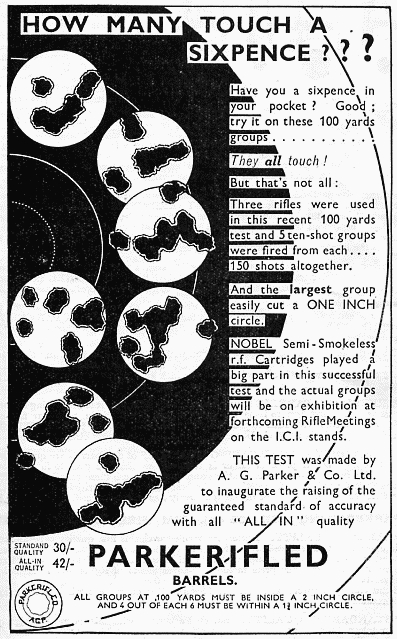 By 1933, when this next
catalogue was published,
the company had become
"Parker-Hale",
although the testing advertised in
"The Rifleman" - journal of the
Society of Miniature Rifle Clubs -
had been done by A.G. Parker & Co.
We are sometimes asked for information concerning Parker-Hale products, particularly with regard to dating the manufacture of the company's rifles. We have made enquiries regarding whether any records that might assist such research remain in existence. We approached Parker-Hale, as that company stands at present, and also two other companies, one of which purchased the trading rights for cleaning products, and the other which bought-up most other remaining stock. The owner of the latter company recalls being present, at the time of the sale, and watching sights and valuable other stock being binned for disposal at scrap metal weight rates. Sadly he also remembers seeing all the files and papers from the offices being brought out of the premises and piled onto a huge pyre! As far as we are aware, any relevant records are therefore likely to have gone up in smoke; such has been the way of the World in recent years, with similar action being often taken in the name of fraud prevention.
A number of other important Parker products related to small-bore shooting are also viewable from this page.
Parker-Hale Service Rifle Target Sights
See page on the .22 MARTINI and the LEE_ENFIELD TRIGGER PULL
See also the Parker-Hale CMT rifles , the Parker-Hale_TARGETS cope , and the Parker-Hale_Dewar_rifles
plus the Parker-Hale Optical Sight Set
Click here to access a Chronology of Enfield genre Training Rifles, Adapters & Cartridges